This last weekend I traveled to Washington, D.C. because I wanted to witness for myself what was going on down there firsthand. There were several powerful gatherings of Christians set up to all happen on the same weekend. Franklin Graham hosted a powerful prayer walk. There was a huge gathering called "The Return" (put on by Rabbi Jonathan Cahn and Kevin Jessip). My friend Dr. Jim Garlow held the "Well-Versed Summit" and many more meetings and gathering also took place. I honestly felt very strongly led to go, even before I was invited to speak at an amazing event which I will share the links and more about again soon.
I wasn't quite sure as to what I was going to experience, between the fears that are still very prevalent with regard to the Coronavirus, and also the additional concerns for one's safety in the wake of the recent riots. The COVID-19 restrictions in D.C. proper are also very stringent. It reminded me of being out in California, only D.C. was more fortified due to what happened down there recently with the monuments being vandalized. There were Capital Police everywhere. I honestly felt very safe. I was surprised to see very little when it came to protestors/BLM/Antifa. There were some, but not many. I have to say, I had spoken with some of the planners of several of the major events prior to going down, and they all felt as though we could end up seeing smaller than expected crowds because of all that was going on. Not the case at all. In fact, just the opposite.
What happened in D.C. this last weekend should be front page on every single newspaper around the country and beyond. I have seen media blackouts before with large Christian events, like the March For Life, but I am still shocked that the very disingenuous American media has barely reported on what just happened. This is why we felt the urgent need to let you know. We need to let all believers know as they want us to feel discouraged and outnumbered. They also don't want movements like ours gaining even more momentum. So what do they do? Blackout and not report on it.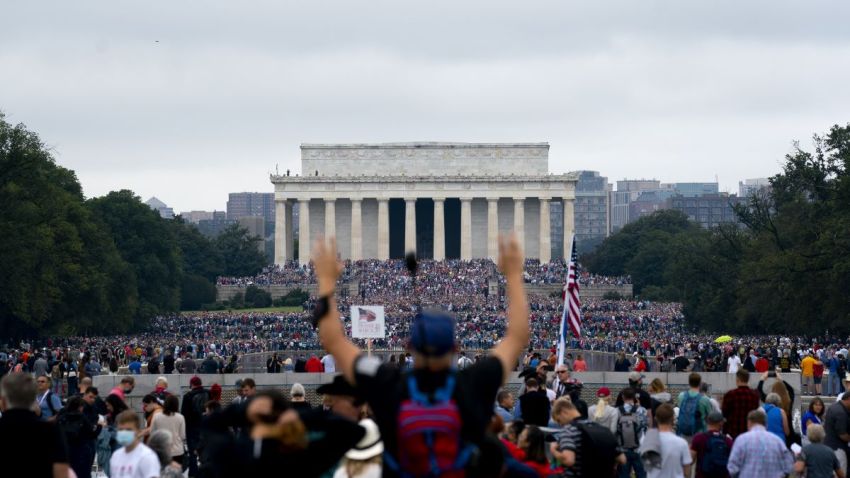 What took place was nothing short of historic.
American Christians and patriots converged on Washington D.C. in numbers that you rarely see. Some are saying as many as 100,000 people were there. It was comparable to an inauguration ceremony. People as far as the eyes could see filled the National Mall lawn to worship and praise the Lord…and to repent! There were people praying everywhere. There is even a 24-hour prayer tent called "David's tent" that has been there for quite some time digging the spiritual wells and interceding over the territory. Its put on by a group called "Awaken the Dawn".
There were people praying for each other, weeping, and interceding for our nation and the administration. I was deeply moved by this. I also saw a ton of Trump hats, t-shirts, and banners. There was no shortage of support for the president. I would say the majority, if not all were Trump supporters. This is one reason the media doesn't want you to know what just happened. Because this would expose even greater disconnect than what we may have ever imagined between the American press and reality. They are completely biased.
If you don't know this, then you need to take note.
The media, or as the president refers to them as the "fake news" are now so one-sided that they actually only report on what will help push their views, agenda, and narrative. For example, after all, that just happened in D.C. they report on an uncorroborated story such as President Trump's tax returns and yet refuse to report on the Biden family's deep ties to China and their very corrupt financial dealings with Russians and Burisma in Ukraine. It's all done with an attempt to construct their version of reality and make you and I feel beat down. They are not telling us the truth.
What just happened this weekend will have reverberations for some time to come. I cannot imagine that God will not respond to the prayers of the righteous crying out. We are already seeing something happening here, as God has allowed the president to nominate his 3rd supreme court appointment, Amy Coney Barrett, who will most likely get confirmed before the election. But its more than just that, I believe God is about to do a shaking in this nation.
While we are seeing the beginning of a great move of God, simultaneously we are also seeing the very corrupt elements of a "deep state" that has been deeply entrenched in our educational, health, religious, and media institutions and many companies for many years…being exposed. I believe this is just the beginning. If the mainstream media refuses to report on some of today's biggest stories, that's OK…we will! And we will become the new media–the real media. People are not stupid and numbers don't lie! We are witnessing a movement, and God will not be mocked! He is raising up His remnant for a time such as this!
Be encouraged today, you are not alone. You are not isolated. You are part of the silent majority–a majority that has begun to let our voice be heard.
This article is written by Pastor Todd Coconato. You can find his work here