Pennsylvania State Senator Doug Mastriano, a Republican, said Friday that the GOP-controlled state legislature will make a bid to reclaim its power to appoint the state's electors to the Electoral College, saying they could start the process on Monday, Nov. 30.
Mastriano told War Room that he has been in communication with Republican Pennsylvania House and Senate members to reclaim their constitutional authority from the secretary of state's office. The reason why, he said, is due to a hearing in Gettysburg with GOP state senators that heard witness testimony from poll watchers and others who alleged there were significant irregularities and fraud during the presidential election.
He said that about half of the state GOP House and Senate leaders and legislators support the move to reclaim their constitutional authority. Both the State House and Senate are controlled by Republicans.
"So, we're gonna do a resolution between the House and Senate, hopefully today," he told Steve Bannon's War Room on Friday. I've spent two hours online trying to coordinate this with my colleagues. And there's a lot of good people working this here. Saying, that the resolution saying we're going to take our power back. We're gonna seat the electors. Now obviously we're gonna need the support of the leadership of the House and Senate, we're getting there on that."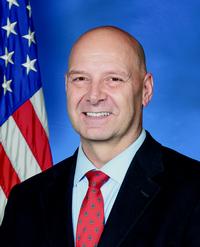 Pennsylvania Sen. Doug Mastriano. (Pennsylvania State Senate)
Mastriano then acknowledged that the legislature will attempt to take the power back from the Democratic governor and secretary of state offices over electors.
"That is exactly what we're going to do," he added, saying that it will "obviously be a struggle."
"We're gonna hear the palpitations and you know the outcries of our Governor [Tom] Wolf and Secretary [of State Kathy] Boockvar, whose resignation should have happened months ago and she shouldn't have ever been confirmed," the Pennsylvania Republican said on the show.
But it's necessary, he argued, because there is "so much evidence of shenanigans and fraud, we can't stand aside and just watch this unfold around us." Elaborating, he said, "If there's extensive shenanigans out there it's up to the General Assembly to step in. So we have a fight on our hands and we're gonna fight. We're gonna take the fight all the way to the Supreme Court if we have to."
During the hearing on Wednesday, Trump lawyers Rudy Giuliani and Jenna Ellis called on the legislature to exercise their constitutionally given authority.
"You are the best constitutionally-invested entity to do that," Ellis said. "You have a variety of options in front of you."
One possible method, she said, is for the legislature to call for a special election. Ellis also noted that state legislators "can direct the manner of your electors … one option should not be to ignore it and certify a corrupted, irredeemably compromised election."
Giuliani, in the hearing, cited the 12th Amendment as well as the Constitution's Article II, Section One that assigns the election to individual states to be conducted "in such manner as the Legislature thereof shall direct."
Boockvar, the secretary of state and chief election officer in the state, has said she has seen no evidence of voter fraud or mass irregularities that would overturn the election results in the state. State data shows that Biden leads Trump by about 80,000 votes. Other secretaries in other states where the results are being challenged have made similar claims